Psalm 63

Psalm 63
Prayer and Insights
~ ~ ~

God wants to use this psalm
to guide us into a closer relationship with him.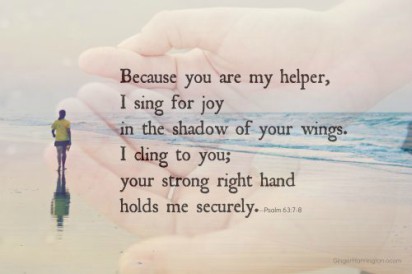 Verses 1-2

O God, thou art my God;
early will I seek thee:
my soul thirsteth for thee,
my flesh longeth for thee
in a dry and thirsty land, where no water is;
2 To see thy power and thy glory,
so as I have seen thee in the sanctuary.
 Verse 1
David is yearning for more of God.
David has a close relationship with God
yet
he is ever wanting a closer relationship.
David's strong emotions
have emerged from the strong bond
that David has with God. 
It is natural for a person to want
what someone else has.
In this psalm, God wants us
to want
the kind of relationship

that David has with God.

~

Which means:

God wants us to yearn for a closer relationship with him.

Psalm 63
verses 1 - 2
God wants to show us the
BEAUTY
of a close relationship with him.

The song below
seeks to capture the
deep emotion
of
Psalm 63.

Below is one of my favorite songs.
It is

inspired by Psalm 63.
Verse 3

3 Because thy lovingkindness
is better than life,
my lips shall praise thee.
Psalm 63 - Verse 3
David proclaims that his love for God is so great
that he truly realizes that the
lovingkindness of God is better than anything else
in this world.
See Psalm 84:10

We can be captivated by the world.
Or
We can be captivated by the Lord.

When we are
captivated
  - by all the details and challenges of life - 
we do not comprehend
the lovingkindess of God
in it proper depth.
See Psalm 136 for more about God's amazing lovingkindness.
Verse 4

4 Thus will I bless thee while I live:
I will lift up my hands in thy name.
David concludes his first three verses of thoughts
with the
crescendo
of verse four.
Verse 4 declares
that the only worthy response
to all these wondrous thoughts
of God
is to
Bless the Lord!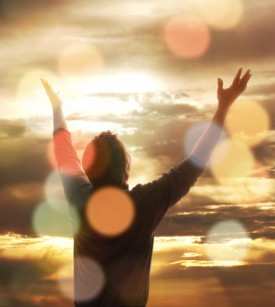 Psalm 64 verse 4b says:

I will lift up my hands in thy name.
When I started going to a church that
raised their hands
in worship,
I felt uneasy at first. 
That was a new thing for me.
Yet, Psalm 63 tells us that
God encourages us to honor him by raising our hands
in praise to him.
Below is a sweet story
about how a little child can lead us.
~

It happened at my church
many years ago:
Years ago when my son was in kindergarten,
there was a little girl named
Jennifer
in his class.
Jennifer's mom once told me 
that Jennifer wanted to marry my son.
One night, our church was having a special service for children. We invited Jennifer to go with us.
When we got to church, I stayed with the kids.
We began the children's service by singing songs to God. 
As we were all having a great time singing, I looked down and saw Jennifer with her hands up in the air singing to God.
Keep in mind that this was years ago,
and Jennifer went to a very conservative
Methodist church
that would not have held up hands
while worshipping at church.
My first thought was that surely she was copying some other child.
(Sometimes people in our church did hold up their hands but not often in children's church. And I had never seen the children holding up their hands.)
I quickly looked around and saw no other child
nor any adult holding up his hands.
Then I realized that what happened was
that her love for God had overwhelmed her,
and
she felt compelled to raise her hands.
~

I will never forget that precious picture
of a little child loving God
in the best way she knew how.

Let my prayer be set forth
before thee as incense;
and
the lifting up of my hands
as the evening sacrifice.
Psalm 141:2 KJV

Worship
Worship

Worship is a time when we show our love for God.
Sometimes it is just with our words,
and then sometimes
we feel drawn
to position our body in a reverent way.
I encourage you to worship God in your home today

- in whatever way you decide -

in order to show your love to God.
If you would like to hear a
Christian comedian
poking fun at Christians
- like me -

who raise their hands
- and ones who don't -
Click HERE
Verse 5

5 My soul shall be satisfied as with marrow and fatness;
and my mouth shall praise thee with joyful lips:
Below is
Prayer and Praising
inspired by Psalm 63
done with
 Joyful Lips!
Dear Lord,
I will glorify you.

I will give YOU glory and honor with my mouth.
I will give YOU glory and honor with my actions.
In Jesus' Mighty Name I pray,
Amen


Dear Lord,
I love you, and I want to glorify you.
I want to follow you in every way.
Today, I will thank you for your blessings to me.
Today, my mind will think on godly, righteous things. 
And today, my mouth will sing praise to you.
Amen

Copyright 2014 Beth McLendon of Inspirational-Prayers.com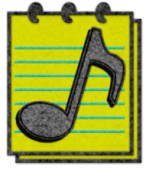 Music to introduce the next section.
It is inspired by
Psalm 63:6-8
Verses 6-7

5 My soul shall be satisfied as with marrow and fatness;
and my mouth shall praise thee with joyful lips:
6 When I remember thee upon my bed,
and meditate on thee in the night watches.

7 Because thou hast been my help, therefore in the
shadow of thy wings will I rejoice.
Verses 6-7 create a beautiful picture of a person who has a close relationship with God.
I like the way The Living Bible gives these verses:
I lie awake at night thinking of you
- of how much you have helped me -
and how I rejoice through the night
beneath the protecting shadow of your wings.
Psalm 63:6-7  TLB
Verse 8


8 My soul followeth hard after thee:
thy right hand upholdeth me.
The Hebrew word translated
"hard"
has the meaning of cleaving to, sticking to,
closely* pursuing,
joining together, abiding. 
-
* In The Living Bible translation, it uses the word "close".
I follow close behind you,
protected by your strong right arm. 
Psalm 63:8 TLB
David is showing
his deep passionate love for God.
Verse 8 "b" section says:
thy right hand upholdeth me.
In verse 8b, David is praising God
for holding him up and protecting him.

Below are Bible verses that relate to
Psalm 63:8b
O sing unto the Lord a new song;
for he hath done marvellous things:
his right hand, and his holy arm,
hath gotten him the victory.
Psalm 98:1 KJV
 Thou hast a mighty arm:
strong is thy hand,
and high is thy right hand.
Psalm 89:13 KJV
Also see:
Psalm 18:35, Psalm 20:6, Psalm 16:11, Psalm 118:15,

Exodus 15:6,
Isaiah 41:10, and Isaiah 62:8.
Verses 9 - 10

9 But those that seek my soul,
to destroy it,
shall go into the lower parts of the earth.
10 They shall fall by the sword:
they shall be a portion for foxes.

The Destroyer is the Devil.
God tells us
in the New Testament
that we need to focus
on
the evil demonic forces
when we think about our "enemies."
Ephesians tells us:
Put on the whole armor of God,
that ye may be able
to stand
against the wiles of the devil.
 For we wrestle not
against flesh and blood,
but against principalities, against powers,
against the rulers of the darkness of this world,
against spiritual wickedness
in high places.
Ephesians 6:11-12 KJV

So when we think about
those who are
our true enemies,

it is helpful to focus on the
spiritual demonic forces - not focus on people.
Note that we have a page called: Who is the Devil
Verse 11

11 But the king shall rejoice in God;
every one that sweareth by him shall glory:
but the mouth of them that speak lies shall be stopped.

There are blessings
for those who rejoice in God and give him glory.
Those who are against God and speak lies
shall be eventually silenced.

God wants to use
Psalm 63
to guide us
into a closer relationship with him.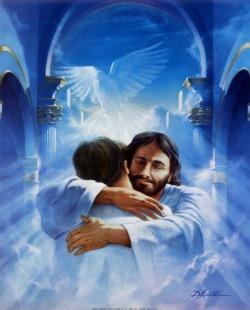 God wants us to
choose
continual communion
with Him...
even during our wilderness times.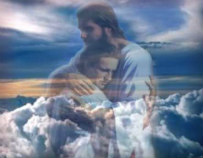 It is believed that David wrote this psalm
during a wilderness time in his life.

~ ~ ~

Psalm 63 encourages
me
to
draw near to God...

even during my wilderness experiences.
Below is a

Psalm 63 Worship Song
for the Wilderness

For more insights into David,

click: David

Lyrics to the second video:

Even in the wilderness
God, You are my God
Earnestly I search for You
With everything I've got
For I have seen You in Your glory
I have seen You in Your power
Your unfailing love is with me
Day after day
Hour after hour

CHORUS:
I will honor You as long as I live
And I will lift up my hands in Your name
My thirsting soul will be satisfied in You
Satisfied in You

Even as I lie awake
My thoughts are all on You
You've helped and protected me
In everything I do
And You are holding me securely
With a greater love than life
You will be my sanctuary
Day after day
Night after night

Repeat CHORUS

I will sing in the shadow of your protecting wings
And seek after you in all things
In all things

I will honor You as long as I live
And I will lift up my hands in Your name
My thirsting soul will be satisfied in You
I'll be Satisfied in You

REPEAT CHORUS

Satisfied in You, Satisfied in You
I'm so satisfied
We have lots of pages on the Psalms.
They are listed on our Bible Devotion page.
JUMP to the top of Psalm 63