Prayer for the Sick

This "Prayer for the Sick" page
is written to minister to the needs of those
who are fighting diabetes, cancer, heart disease,
or other diseases or sicknesses.
Also note that we have  a Prayer for Cancer page.

Thank you, Lord, for the Power of Prayer.
Father God,
We come to you today in praise and worship. We come thanking you that this is truly the day the Lord hath made, and we will rejoice and be glad in it. *
Lord, today we open our spirits to you and give thanks for Your life - that fills every cell of our body and life.
Lord, you revealed yourself to us as Jehovah-Rapha, the Lord our Healer.
Lord you want to heal those who are sick and hurting today. Healing was purchased in the atonement and is available, just as salvation is available.
Your Word says in Exodus 15:26b KJV "I am the Lord that healeth thee."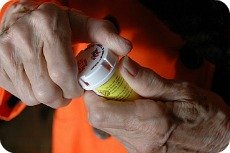 We know today that Your will is to heal, so we pray with confidence.
Lord, we pray for those today who are fighting cancer, diabetes, heart disease - and any other disease or sickness. We command these sicknesses to be cursed at the root in the name of Jesus. We pray for the healing balm of Gilead to flow in these diseased bodies. Where there is weakness, let strength arise.
We call out to these dead bones and command them to live again. Everything that is not functioning properly, we say, "Be healed."
Lord, may we stand firm on your Word, because it is the Truth. We know that the Truth will set us free.
Thank you for what you are doing in the spiritual realm for us.
We honor you for the victory that is coming in the lives of those who are reading this prayer.
Thank you, Lord.
Amen
Copyright © 2012 Ora for Inspirational-Prayers.com
Ora is part of the Inspirational-Prayers team that prays for the needs of our visitors.
~ ~ ~
* This is the day which the Lord hath made;
we will rejoice and be glad in it.
Psalm 118:24 KJV
~ ~ ~
We have many pages on healing.
Here are links to all of them:
Here are some of them:
A weekly devotional about healing

We also have wellness pages.

If you are looking for encouragement for exercising:
Back to the top of Prayer for the Sick