Inspirational Prayers
This is the place to find
Inspirational Prayers for all occasions
Our vibrant Christian community

is dedicated to ministering to your spiritual needs.
~
We welcome YOU!
Our Inspirational-Prayers site has
Prayers for all Occasions,
Bible devotions
and More!

If you are new to our site, you might want
to start by looking at our Sitemap.
Praise to our Lord


Some people do not know that
God Runs!
The story of Luke 15:11-32   ** Verse 20  Note: The Father in the story is God.
The video above and the one below
answer the question:
Lord,
Do you love me?
See our page: God's promise of Love

Praise to the Lord our God
Ruler of the Universe.
You astonish me with your love.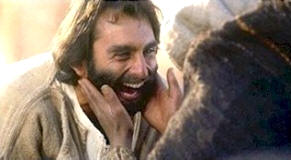 Jesus, inspire me with your life,

so that I can

courageously live my life for you.
 Recently, I saw a person in a
T-shirt.
On the back of the shirt it said:
The church has left the building.
Popular Pages
Inspirational-Prayers

Highlighted

Bible Verses:
O my God,
I trust,
lean on,
rely on,
and
am confident in You.
Psalm 25:2 a AMP
When I pray,
you answer me,
and encourage me
by giving me the strength I need.

Psalm 138:3 TLB
Psalm 119 Prayer

With my whole heart
I have sought You;
Oh, let me not wander from Your commandments!
Your word I have hidden in my heart,
That I might not sin against You.
Blessed are You, O Lord!
Psalm 119:10-12a NKJV
Experiencing a better life with Jesus!
Everyone wants life
to be better.
Talking with God is a tremendous avenue for change.
Through prayer we renew our mind,

receive supernatural blessings from the Lord, and

gain more harmony and unity with God.
Through Prayer

we develop our relationship
with God,
and draw closer to God.
Prayer doesn't have to be
boring and unproductive.
One of our goals is to inspire you with content
that brings fresh insights and fresh life
into your relationship with God.
We want to provide you with thoughts and concepts
that you have not considered previously.
As you spend time on our Inspirational-Prayers site,
it is our desire that our site content
will guide you toward more easily
receiving more love and acceptance from God.
If you are looking for
more results,
more knowledge,
or more acceptance
in your spiritual life,
we invite you to be a part
of our Amazing  Community.
You are important to God, and
you are important to us.
Would you like to understand
what getting saved is all about?
We have a page called Explaining Salvation.
Inspirational Prayers 
There are some wonderful
Inspirational Prayers
in the Bible.
In the book of Ephesians,
Paul tells us what his prayer is for us.
We will highlight Ephesians 3:16-19 NLT.
"I pray that from his glorious, unlimited resources
he will empower you with inner strength
through his Spirit.
Then Christ will make his home in your hearts
as you trust in him.
Your roots will grow down into God's love and
keep you strong.
And may you have the power to understand,
as all God's people should,
how wide, how long, how high, and how deep his love is.
May you experience the love of Christ,
though it is too great to understand fully.
Then you will be made complete
with all the fullness of life and power
that comes from God.
Now all glory to God, who is able,
through his mighty power at work within us,
to accomplish infinitely more
than we might ask or think.
Glory to him in the church and in Christ Jesus
through all generations
forever and ever!
Amen."
~ ~ ~
In the book of Colossians,
Paul tells us about the contents

of one of his prayers.
Colossians 1:9-12 NKJV
"For this reason we also, since the day we heard it,

do not cease to pray for you, and to ask that you:
May be filled with the knowledge of His will in all wisdom
and

spiritual understanding;
that you may walk worthy of the Lord,

fully pleasing Him,
being fruitful in every good work

and increasing in the knowledge of God;

strengthened with all might, according to His glorious power,

for all patience and longsuffering with joy;

giving thanks to the Father who has qualified us to be

partakers of the inheritance of the saints in the light."
~ ~ ~
Inspirational Prayers in the Bible continued:

In the book of 1 Chronicles,
Jabez prays to God.
The Prayer of Jabez has become famous in the last few years.
We will highlight 1 Chronicles 4:10 KJV.
"And Jabez called on the God of Israel, saying, Oh that thou
wouldest bless me indeed, and enlarge my coast, and that thine
hand might be with me, and that thou wouldest keep me from evil,
that it may not grieve me!"
1 Chronicles 4:10 ends with,
"And God granted him that which he requested."
We at Inspirational-Prayers
welcome our visitors!
Let us know what you like or what you would like to see more of!
We want to make visiting our site helpful. We are continuing to build this site. Please let us know what you would like to see more of. (And if you aren't a fan of our site, we pray that God will lead you to the site that is just right for you!)
What Other Visitors Have Said
Click below to see contributions from other visitors to this page...

Our free inspirational prayers are written to
encourage you and uplift you.
Daily Prayer is important. May we suggest visiting our Morning Prayers?

Take note that we at Inspirational - Prayers believe in the power of prayer, but we cannot guarantee any specific type of results from our prayers.
Thank you for visiting our Christian Prayer site!
Back to the top of Inspirational Prayers