Psalm 6
Psalm 6
Great Pain - Great Sorrow
A psalm for those who feel depressed.
NET  Bible version

written out under the video
A Psalm of David

-
Below
is a compassionate video
by a believer who is walking beside us
with gentleness
as we look at this psalm.
There is more encouragement and content
after the Scripture below.
Psalm 6
Lord, do not rebuke me in your anger.
Do not discipline me in your raging fury.

2 Have mercy on me] Lord, for I am frail.
Heal me, Lord, for my bones are shaking.

3 I am absolutely terrified,
and you, Lord—how long will this continue?

4 Relent, Lord, rescue me!
Deliver me because of your faithfulness.

5 For no one remembers you in the realm of death.
In Sheol who gives you thanks?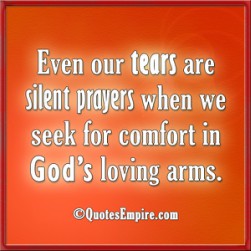 6 I am exhausted as I groan.
All night long I drench my bed in tears;
my tears saturate the cushion beneath me.
7 My eyes grow dim from suffering;
they grow weak] because of all my enemies.

8 Turn back from me, all you who behave wickedly,
for the Lord has heard the sound of my weeping.

9 The Lord has heard my appeal for mercy;
the Lord has accepted my prayer.

10 They will be humiliated and absolutely terrified.
All my enemies will turn back and be suddenly humiliated.
Below
What a Friend we have in Jesus.
More Help
We have many pages that might be helpful
if you are struggling.
Here are a few of them...
We need Hope - encouragement for those who feel hopeless and depressed
Wounds from childhood Pastor Jack's testimony of healing
We encourage you to look at our list of comforting psalms - Here
                  I'm
                                br    ok     en
If you have broken places inside of you,
remind yourself that God wants to bring healing
and comfort to you.
Jump to the top of Psalm 6