Receiving Comfort from God
 Daily
Inspirational Thoughts
to bless your life.

This is a previous week's
Inspirational Devotional topic
called:
Receiving Comfort from God
 - -

Also consider our pages:
---
Monday

Lord,

Hear my Heart.

Tuesday

Sometimes I hurt.
Sometimes I cry.

Lord,
Will you hold me while I cry?
The video I have chosen today
has
lyrics that I like and
some pictures that I love.
-

The pictures show
Jesus hugging and comforting us.
Wednesday 
Jesus is the Lion of Judah.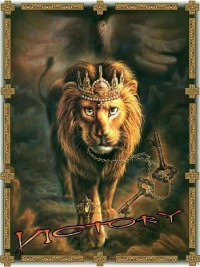 Jesus is pictured as a lion.
The image of a lion quickly communicates the strength and power of our Savior.
There is no one stronger. There is no one who deserves more respect than Jesus.
He is the King of Kings and the Lord of Lords.
He is nobody's wimp. He has no fear of anyone or anything.
No one makes him tremble.
JESUS IS THE
Commander of the Armies of Heaven.
It is amazing to me that the one who is above all,

loves me and beacons me to come to him and

create a close loving relationship with him.

And he loves you and beacons you
this very day

to come closer to him.
The following video is helpful to me as I draw close to Jesus today.
It shows a Mighty Lion –
a lion who would easily
create fear in any person.
Yet this lion showers his tenderness and his love
on his beloved.
If you have accepted Jesus as your Savior and you live for him, then you are his beloved.
I hope you will be blessed by the enthusiasm that the lion expresses in his love for his beloved.

I hope you will experience this video as Jesus hugging you.
Thursday

Resting
Note:
Yeshua is Jesus in Hebrew
Abba is Father in Hebrew
Adonai is Lord in Hebrew
Friday

Lord, when I don't know what to do,
I'm reaching out to you.

Highlighted Bible Verse

For this week:
"The Lord is close to the brokenhearted

and saves those
who are crushed in spirit."
Psalm 34:18 NIV 1984
Thursday Notes:
One of the most popular pages on this website is a page called Prayer for a Broken Heart. It has two prayers and it has unique teaching on the subject of a broken heart.
There are many reasons we seek comfort from the Lord.  A broken heart is one of them.
We also have pages called Prayer for Emotional Pain and
Prayer for Despair.

For a list of all the prayers click Prayers for All Occasions.

Note that my book for women called  At Home in God's Sweater includes teaching on receiving comfort from God.

This page was originally presented on April 7, 2014 and repeated Feb. 16, 2015.