Psalm 91
Daily Inspirational Thoughts
to
Bless Your Life
A Monday through Friday Devotional

Inspirational Thoughts and Videos
___
This week the topic is:
Psalm 91

Please join me this week,
as we surround ourselves with God's Protection given in Psalm 91.
Introduction
Psalm 91 is one of the most beloved of the psalms.
Psalm 91 is known as a
Psalm of Protection.
~
Praise the Lord for this wonderful Psalm.
Each day this week, we urge you to
listen to Psalm 91 being read.

Monday

Psalm 91:1
is our godly 911 call
to God.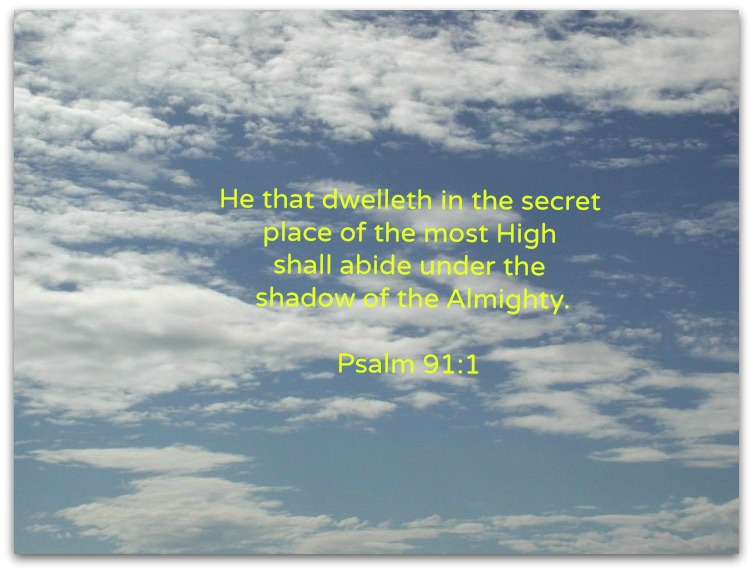 Psalm 91
Tuesday
He  that dwelleth
in the secret place of the most High
shall abide under the shadow of the Almighty.
Wednesday

Hearing, Reading, Meditating on,
and Praying
Psalm 91
  is powerful.
Thursday

Let's let
God's Word
dwell
richly
in us.
Friday

Thank you, Lord, for your protection.

Extra Scripture for Healing
The Word of God
Protection
Psalm 91
speaks of
protection from plague.
This page was created with the intent
to combat the fear

many are feeling,

because of the strange things that are happening.

For example,
the reports of severe weather and strange plagues
around the world are causing distress.
The Answer to fear is God.
- - -
One of the specific answers God gives to combat fear is
Psalm 91.
God is our Strength

2022
September
Biblical destruction in Florida
https://www.aol.com/news/sanibel-florida-city-official-says-150101433.html
June
Strange things continue to happen.
Here are videos with news
you probably haven't heard.
2021
December
Strange things continue to happen.
2020
Strange things continue to happen.
March 
We are encountering the Coronavirus.
Countries are shutting down.
But God is our anchor in the storm.
January
https://www.bbc.com/news/world-africa-51234135

And
https://www.zerohedge.com/health/biblical-locust-plague-worst-mega-swarms-70-years-devastate-east-africa

2019
Strange things continue to happen.
-
November 2019 it is reported that in China they have 250 million dead pigs due to an outbreak. 
October 2019 it is reported that West Java Indonesia has tens of tons of fish dead on fish farms
-
Oct. 2019, millions of dead mussels are found in Cheynes Beach Australia and millions are found in various coastal locations around the United States.
-

Flooding in the U.S.
will affect people now
and in the food supply later.

Bees are acting strangely
and dying.
2020
https://www.cnn.com/2020/09/07/us/denver-winter-storm-heat-snow-colorado-trnd/index.html
These are from August / September 2019
https://ktla.com/2019/08/17/plague-infected-prairie-dogs-shut-down-parts-of-denver-suburb/

https://ktla.com/2019/09/08/there-is-nothing-here-70000-left-homeless-in-the-bahamas-after-dorian-face-uncertain-future/
https://saraacarter.com/leprosy-could-be-the-next-public-health-crisis-to-hit-los-angeles/

https://www.zerohedge.com/news/2019-06-08/los-angeles-disease-renaissance-typhoid-typhus-make-comeback

https://www.nbcnews.com/news/us-news/typhus-zone-rats-trash-infest-los-angeles-skid-row-fueling-n919856

This section is from 2014
when I first posted this page.
Many people are fearful about the plagues
discussed on the news.
I live in the United States

August 2014

Current concerns of U.S. plagues:
Georgia - An Atlanta hospital has gotten two ebola patients.
http://www.cnn.com/2014/08/02/health/ebola-outbreak/index.html
Florida is giving warnings to beach goers of a "flesh-eating" bacteria.
http://www.weather.com/health/flesh-eating-bacteria-florida-scare-20140729
Colorado is reporting a pneumonia plague.
http://www.bloomberg.com/news/2014-07-18/four-cases-of-life-threatening-plague-found-in-colorado.html
Colorado last year reported a child getting bubonic plague.

Federal health officials say that on average, seven cases are reported in the U.S. each year.
http://www.cbsnews.com/news/7-year-old-colorado-girl-contracts-black-death-bubonic-plague/

Multiple states in the U.S. are reporting plagues coming from mosquitoes.

http://news.brevardtimes.com/2014/05/new-mosquito-virus-threatens-florida_18.html
http://www.huffingtonpost.com/2014/07/30/chikungunya-new-york-new-jersey_n_5634610.html
http://health.usnews.com/health-news/news/articles/2014/01/23/texas-womans-death-highlights-danger-of-overlooking-dengue-fever

Obviously many of you live in a country other than the U.S. and you are facing plagues as well.
The world (including the U.S.)
  are fighting many plagues:
Bubonic plague
http://abcnews.go.com/International/chinese-city-quarantine-bubonic-plague-death-report/story?id=24669234

http://www.cbsnews.com/news/quarantine-lifted-after-bubonic-plague-death-in-china/
Ebola outbreak
http://www.washingtonpost.com/blogs/worldviews/wp/2014/07/28/this-is-the-worst-ebola-outbreak-in-history-heres-why-you-should-be-worried/
Incurable TB

http://www.cnn.com/2014/05/28/health/return-white-plague-incurable-tb/index.html
Also other plagues - some not new - such as:

Bird flu, H1N1, west nile, sars, mers, cholera, smallpox, malaria, TB
2014  - Other Strange Happenings

Many of you have noticed that we are having bizarre weather patterns and events on the earth.
In the United States, we are experiencing many strange things such as multiple sinkholes, strange dust storms, twin tornadoes, and melting roads.

Yellowstone Park - The strangest thing I have heard about is that Yellowstone Park has closed some of their roads because the roads are melting from underground heat. The roads are turning to oatmeal.
http://news.yahoo.com/hot-spot-yellowstone-road-melts-sites-closed-173109959.html
Sinkhole in Kentucky swallows 8 corvettes in the National Corvette Museum

http://www.usatoday.com/story/news/nation/2014/02/12/corvette-museum-sinkhole/5417171/
Twin Tornadoes
http://www.washingtonpost.com/blogs/capital-weather-gang/wp/2014/06/17/twin-tornadoes-in-nebraska-chilling-multimedia-from-apocalyptic-scene/
Sand storm in Texas
http://www.nbcnews.com/news/weather/west-texas-hit-1-000-foot-high-dust-storm-n56391
California Drought
http://www.nbcnews.com/storyline/california-drought/california-drought-crisis-reaches-worst-level-it-spreads-north-n169516

California state of emergency for fires
http://abcnews.go.com/WNT/video/drought-plagued-california-state-emergency-wildfires-24827946

Massachusetts - first tornado in 64 years
http://www.nobomagazine.com/2014/07/28/first-tornado-in-suffolk-county-in-more-than-64-years-hits-revere/
No matter what we face...
Psalm 91 is always a good psalm to pray
for yourself and your children
no matter what specifically is going on in your world.
When we hear of distressing news,
we can turn our attention
to God and read Psalm 91.
Let's trust God,
make wise decisions,
pray,
read and meditate on Scripture,
and

rest in God.

Philippians 4:8

Finally, brethren, whatsoever things are true,
whatsoever things are honest,
whatsoever things are just,
whatsoever things are pure,
whatsoever things are lovely,
whatsoever things are of good report;
if there be any virtue, and if there be any praise,
think on these things.
Psalms 91 devotional the week of August 4, 2014.

Jump to the top of Psalm 91