Daily Inspiration

 Daily Inspirational Thoughts
to bless your life.
~


A Daily Devotional
Monday through Thursday

by Beth McLendon

~


The topic this week:
We are the sheep of His pasture
---
Monday

Jesus is the Good Shepherd

Jesus said,
"I am the good shepherd; and I know My sheep,
and am known by My own. "
John 10:14 NKJV
~

My sheep hear My voice, and I know them,
and they follow me.
John 10:27 NKJV

The Good Shepherd

In John chapter 10:1-18, Jesus talks about
being the Good Shepherd.
Jesus said that his sheep will follow the Good Shepherd, and
he explained that his sheep will not follow strangers. 
Jesus says:

"And a stranger will they not follow, but will flee from him:
for they know not the voice of strangers."
John 10:5 KJV
Note: the video below says, "Oh, my God" several times.
I do not think the young lady was speaking reverently about God.
If you share this page with your children,
you may feel the need to talk to your children before sharing the video.
"And a stranger will they not follow, but will flee from him:
for they know not the voice of strangers."
John 10:5 KJV
Tuesday

Thou preparest a table before me.
Psalm 23:5a KJV
In the following three videos,
the man speaking on the videos
is apparently filling in for the shepherd.

The video below gives information
about the job of the sheep dog.
The video below gives
more information about the sheep dog.
There is a fourth part on Youtube
if you are interested.

The Lord is my Shepherd. I shall not want.

Psalm 23:1 KJV

He maketh me to lie down in green pastures.
Psalm 23:2 KJV

~ ~ ~
The sheep in the three videos above
are raised
to make sheep cheese.
The fill-in shepherd said that the sheep need to eat a lot and
eat a variety of food in order to make the cheese.
He also said the sheep want to lie down when they are full.

He said he tried to keep the sheep from lying down,
so the sheep will eat more and make more cheese.

I'm glad that our
Good Shepherd encourages us
to lie down in green pastures.
Know that the Lord, He is God;
It is He who has made us,
and not we ourselves;


We are His people and the
sheep of His pasture.

Psalm 100:3 NKJV

The Bible says that we are like sheep.
A sweet video about our need for attention.

Wednesday

Rejoice in the Lord always. Again I will say, rejoice!
Philippians 4:4
Joyful sheep
So we,
Your people and sheep of Your pasture,
Will give You thanks forever;
We will show forth Your praise to all generations.

Psalm 79:13 NKJV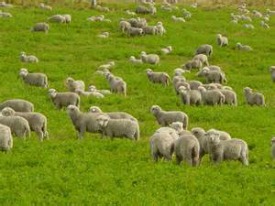 For he is our God; and we are the people of his pasture,
and the sheep of his hand.
Psalm 95:7a KJV
---

Thursday

Fullness of JOY
You will show me the path of life;
In Your presence is fullness of joy;
At Your right hand are pleasures forevermore.

Psalm 16:11 NKJV

Happy and Playful
This sheep is not sure how to play,
but having fun any way!
Fun
Most sheep are (I hate to say it) dumb.
But the sheep in the next video
gives all us sheep
hope!
I wonder
One day as I was working on material about sheep,
I had a thought.
I began pondering sheep and how they relate to Christians.
In English we say "sheep" for one sheep or for many sheep.
I wondered if God was trying to emphasize to me that Christians need to be in groups.
I wondered, "Could it be that God is reminding me that as a Christian,
I do not need to try to do everything on my own?"
"Could God be reminding me that I need other Christians to speak into my life and to help me as I walk with God?"
Maybe I'm reading too much into it, but there is wisdom in staying close to other Christians - especially wise Christians!

And let us consider one another to provoke unto love and
to good works:
Not forsaking the assembling of ourselves together,
as the manner of some is;
but exhorting one another:
and so much the more, as ye see the day approaching.
Hebrews 10:24-25 KJV

He that walketh with wise men shall be wise;
but a companion of fools shall be destroyed.
Proverbs 13:20 KJV
Today might be a good day to thank someone
for their friendship and help.
Final Thoughts

This website has several pages about
sheep:
and

Psalm 23 - The Lord is my Shepherd

which gives a commentary on that psalm.
If you are interested in learning more about sheep,
Phillip Keller has several books on the subject.

Page was originally from November 17, 2014

Jump to the top of this Sheep page.