Mother's Day Humor

Sharing a little

Mother's Day Humor
~ ~ ~
We start with
a
Helping Mommy
video
Helping Mommy
Video 2

Here are a couple of cute stories
about our children and God.
~ ~ ~
When my son was three-years-old,
he was a bundle of energy.
One day he was running around the den almost out of control. My voice began to get louder and louder as I tried to get his attention.
Suddenly, he looked stunned. He realized that he was about to get into trouble.
He paused for a moment, and then he said, "Mom, you why I'm not 'having (behaving)? I've been runnin' around so much God can't get my attention."
Copyright © 2000 Beth McLendon of Inspirational-Prayers.com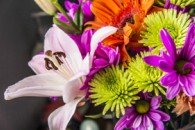 More Mother's Day Humor!

Recently a friend of mine, named Linda, and I
were reminiscing about fond memories of our children.
Linda told me a story about her son, Michael, that happened when he was about three – years - old. Michael was staying with his grandmother for the afternoon.
During his stay, Michael got caught doing something naughty.
His grandmother said,"I don't think your mom would want you to do that. The Bible says that you have to mind your parents."
Michael's eyes narrowed.
He put his little hands on his hips and began to stomp out of the room. As he was leaving, he mumbled, "I wish they would just rip that Bible page out."
Copyright © 2012 Beth McLendon of Inspirational-Prayers.com
It's not easy being a Mom!
So here is a

Tribute to Mom
Our last video is:
Humor
mixed with some
Truth

Have A Great Story About This Topic or a Mother's Prayer to share?
We would love to hear your humorous story or read your mother's prayer.
What Other Visitors Have Said
Click below to see contributions from other visitors to this page...

Grandma's Story
I live in a village in Alaska. I serve as a Eucharistic Minister. My good friend, Marie, was dying from cancer. I would take the Holy Eucharistic to her …
Back to the top of Mothers Day Humor