Inspirational Christmas Kids

Amazing Ways to Celebrate Jesus!
YOU can spread the joy of Jesus to your relatives.
This page is for
Teens
and
Children
This page has:
Great ideas to spur creativity in kids and teens!
Hey kids and teens:
Think about performing
for your family and reminding them of Jesus!
Consider:
Making a video
for your relatives this Christmas!
They love seeing you perform!
What can you do
to share
the Christmas story?
What about a Puppet Show?

ARTS and CRAFTS
get attention!

What about Dancing?
Even if you are really young,
you could still do a great dance
for
Grandma!
What about Reading?

Consider reading something to your family.
Consider using the words below.
How about a Song?
Consider a Shadow Drama.
The Christmas Story is always Inspiring!
Presenting a sign language
Christmas song
is always fun!
Teens -
Consider doing this
craft
with a young child!
Tell them the Christmas story and help them 
make a
Manger Scene!
Manger Scene Gifts for the Family
Kids...
Consider making a
Popsicle Stick Manger Scene.
There are all kinds of ways
to make a
Manger 
with popsicle sticks.
Then color a picture
of Mary, Joseph, and baby Jesus
and tape or glue the picture
inside the manger.

Consider stepping out and sharing
about the birth of Jesus in your own unique way.

Teens -
Consider performing a skit!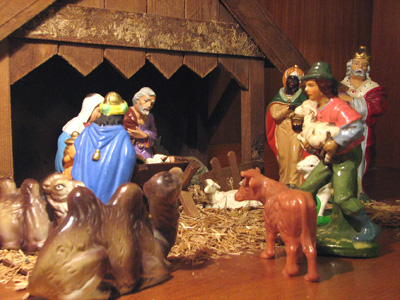 Sharing Jesus


 Hopefully
 all these videos 
will inspire you to tell the Christmas story
in your very own unique way.
People need the Lord.
We can tell them about Jesus.

~

When you touch one person for Jesus,
You have touched the world.
We encourage all of you -  children and teens -
to experience the fun of telling
the Story of the Birth of our Savior and Lord Jesus Christ.
The Gospel means Good News!
The Gospel of Jesus is Good News!

The Gospel
in a few sentences.
Merry Christmas!