Powerful Prayer for Waiting
POWERFUL
PRAYER
for Waiting
The Bible teaches us to say in
Psalm 33:20
Our soul waiteth for the LORD:
he is our help and our shield.
Lord of Love,
I will trust in you as I wait.
I will lean on you as I wait.
I will continue to be faithful in prayer as I wait.
I will stay devoted to you as I wait.

For You are the Lord of my heart.

On You I wait with dedication and love.
Amen
Copyright © 2021 Beth McLendon of Inspirational-Prayers.com


I waited patiently for the Lord;

and he inclined unto me, and heard my cry.
Psalm 40:1 
A Blessed Insight
Better to wait on God than wish you had.
Ron Swift

* * *
I encourage you to consider

listening to the
 audio prayer daily.
And when you finish this page -

consider our Waiting Devotional Page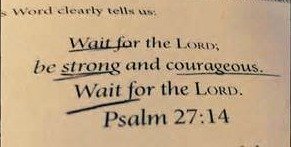 Show me Your ways, O Lord;

Teach me Your paths.

Lead me in Your truth and teach me,

For You are the God of my salvation;

On You I wait all the day.

Psalm 25:4-5 NKJV

But they that wait upon the Lord
shall renew their strength;
they shall mount up
with wings as eagles;
they shall run, and not be weary;
and
they shall walk, and not faint.
Isaiah 30:31 KJV
Consider our Patience Prayers
Jump to the top of Powerful Prayer for Waiting
Powerful Prayer for Waiting was first posted June 2021.