Thanksgiving Day Prayers
to add warmth to your holiday meal.
These warm
Thanksgiving Day Prayers
will add a holiday blessing
to your holiday meal.

~ ~ ~

Garnish your Turkey
with a special Holiday Grace.
---
Many families get in a hurry
and

frequently have meals on the run.

Thanksgiving is a time

to slow down
and
enjoy our family while
we celebrate our love for each other
and our love for God.
As our children get older and move out
on their own,
Thanksgiving becomes a time

to purpose to all meet back together

and savor

an unhurried meal.
~


Prepare ahead to bring
beautiful, heartfelt prayer
to your table this holiday season.
Warm memories
are a gift
that never goes out of style.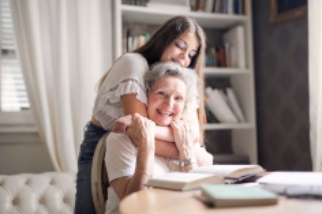 Thanksgiving Day Prayers
Father God,
We come before you to welcome you to our table.
We invite you to be an honored part of our celebration.
We acknowledge that you are our Creator and Provider.
You are the source of all our blessings.
We thank you for all the wonderful food that has been set before us this day. We are truly experiencing your abundance as we sit down to eat this Thanksgiving Day dinner.
Lord, may this gathering be filled with peace, harmony, and heavenly kindness as we enjoy one another on this special occasion.
May we make loving memories this day that will fill us with warmth in the years to come.
In Jesus' name we pray,
Amen
Copyright © 2012 Beth McLendon of Inspirational - Prayers
Another Prayer for the Holiday

Dear Heavenly Father,
We approach our Thanksgiving meal with Thanksgiving in our heart.
Thank you for the magnificent meal that we are about to receive.

Thank you for all the love that is shared around this table.
Thank you for the wonderful moments we have enjoyed with one another.
We ask that your peace and protection would follow us throughout this holiday season.

In Jesus' name we pray,
Amen

Copyright © 2012 Beth McLendon of Inspirational - Prayers
Before you leave
this Thanksgiving Day Prayers page

consider visiting our other dinner pages -
Dinner Prayer and 

And a page listing all our Holiday Pages
Consider bookmarking 
our website for all your unexpected
prayer needs.
 - -

In Closing:
Don't put off telling your loved ones
how important they are to you.
~ ~ ~
Speaking words of love
can bring

refreshment to the tired and discouraged.
"Make a joyful shout to the Lord, all you lands!

Serve the Lord with gladness;

Come before His presence with singing.

Know that the Lord, He is God.

It is He who has made us, and not we ourselves;

We are His people

and the sheep of His pasture.

Enter into His gates with thanksgiving,

And into His courts with praise.

thankful to Him and bless His name."
Psalm 100:1-4 NKJV
In addition to our Thanksgiving Day Prayers Page
we have a  Christmas Prayers page!
Back to the top of Thanksgiving Day Prayers