Easter Prayer for Loved Ones
Easter Prayer
for
Loved Ones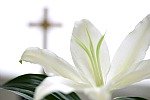 Savior of my Soul,
I pray for my loved ones.
I want each of them to have a great relationship with you.
I pray that every barrier between you and them
will be removed.
I pray that all the doors in their heart
will be opened
so that
they will value you,
appreciate you,
and
want you
in every area of their life
and
in every moment of their life.
I ask... I seek... I knock... on their behalf.
Reveal yourself to them.
Reveal your love to them.
I pray these things
in the name of Jesus Christ,
Amen
Copyright © 2022 Beth McLendon of Inspirational-Prayers.com
Note:
Ask, seek, knock - Matthew 7:7-8

For all our Easter Prayers click: Here
Easter Prayer for Loved Ones was posted April 2022.