Experience Financial Freedom
Find out
How to have Financial Security
and Live Debt-Free
A  FREE
complete online multimedia course
  several hours of tips and teaching
and

Receive a Free copy of
Sharman Lawson's e-book
"12 Steps to Eliminate Debt Forever"
when you donate
$ 15.00
to Beth McLendon's 501C3 ministry
see Paypal button below

Regular price of course:  $ 79.00

Below is the link to view the course:
 https://www.udemy.com/how-to-have-financial-security-and-live-debt-free/
Sharman's  e-book:

12 Steps to Eliminate Debt Forever!

(included in the course)



Only a

$15.00

donation





Give us a day to e-mail the free code!

Sharman Lawson
is a well-known
Financial Consultant
and
she is my personal friend.
Sharman is donating ALL the proceeds
to this website's  501C3 ministry.
Note:

Sharman volunteers as a prayer partner for
Inspirational-Prayers team.
When you Donate $15.00,
Beth McLendon will add you as a
member of
"Friends of Inspirational Prayers"
Sharman wants to bless the friends of
Inspirational-Prayers website!

When you donate $ 15.00,
we will e-mail you a code (within about a day) for
Sharman Lawson's online course called:
How to Have Financial Security and Live Debt Free
- -

Your donation means that you take the course for FREE.

The course includes video lessons & audio lessons.
Beth McLendon says,
"I've taken the complete course, and it is GREAT!"
More information about
Sharman Lawson.


Who is Sharman Lawson?
Let me introduce myself.

I am Sharman Lawson.
I have been on numerous television and radio shows.

I teach people how to manage their personal finances, payoff debt, and create a debt-free lifestyle. 


Do you want to be debt free?

It does not matter your situation. You can create a lifestyle that includes budgeting, managing, and tracking money.
Yes, zero debt and financial peace are possible. I've worked with couples and with singles and helped them to transform their financial situations. I've worked with people from all walks of life, and various geographic locations.
I help people to develop financial habits and lifestyle changes that will transform their financial situation. This involves eliminating debt, saving, and investing.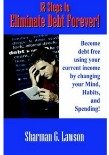 Free

Sharman Lawson's 120+ e-book
"12 Steps to Eliminate Debt Forever"
a $12.95 Value