Daily Inspiration
Daily Inspirational Thoughts
to
Bless Your Life
A Monday through Thursday Devotional

Inspirational Thoughts from
Beth McLendon
Monday August 2, 2021
Wear the world like a loose garment.

Monday Thoughts
The above sentence was one of the "sayings" that my mother often said.
The above saying still comes to my mind multiple times a year and helps me through situations.
When I think about that wisdom, it calms me and directs me toward God and his Word.
I researched the saying before I posted this page, and apparently my mother's saying is part of a quote from St. Francis of Assisi.
"Wear the world like a loose garment
which touches you in a few places and there lightly."
St. Francis of Assisi
Tuesday 
Everyone is strange but me and thee
and sometimes thee.

Tuesday Thoughts
The above sentence was also one of the "sayings" that my mother taught me.

That saying has helped me to look at others in a softer fashion.
It reminds me that we all are peculiar and perplexing sometimes - even me.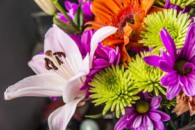 Wednesday 
Inch by inch, it's a cinch.
Yard by yard, it is hard.
Wednesday Thoughts
I have a close friend named Ora Mosley who often uses the above saying to interject fresh motivation and wisdom into a situation.
From her influence, I now often find myself using that powerful saying to counteract discouragement and promote a godly zeal toward difficult situations.
Action Prayer
Dear Lord,
I realize that words are powerful.
I ask that you would remind me
to spend some time finding
and memorizing
some wise sayings
that will motivate me toward godly action.
In Jesus' name I pray,
Amen

Copyright 2014 Beth McLendon of Inspirational-Prayers.com
***
Don't forget about the wise sayings
from the
Bible!
Thursday 
Oh what a tangled web we weave,
when first we practice to deceive.

Thursday Thoughts
When I was young, I heard that saying often - especially  from my teachers in elementary school.
It was a saying that every child knew and every child had contemplated to one degree or another.
Our teachers -  and most parents and adults -  were determined to instruct us early in life to the snares created from lying. 
I haven't heard that saying expressed anywhere in 25 to 30 years. 
I have only heard one sermon about lying in my entire lifetime. 
Is it any wonder that lying is becoming so common place?
Thank you for joining me this week. 
I invite you to consider visiting our page about lying -